Most people don't really ask is my home safe but should, good home inspectors always have that thought first.
Everyone wants a warm dry home and to believe their home is safe, but more than likely there are things that are either unknown or over looked by the home owner that can pose small or even large danger without their knowledge.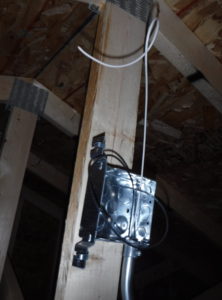 Home Inspectors are trained and educated in the process of visually inspecting homes for safety issues and defects, then informing their clients of those deficiencies and giving recommendation to correct them.
This is why good Home Inspectors are needed; A home is as safe as you make it, and items like in this new construction home (Live wires hanging outside of an open junction Box in attic) can be hiding anywhere. Our Gallery shows many other items that have been found that were not noticed by home owners, like Carbon Monoxide gas from poor appliance combustion exhausting, shorting breakers, loose or falling landscaping blocks, Trip Hazards, etc…
So you should ask yourself, is my home safe?
Mike Ritter
Owner/Inspector
Home Pulse Pro home inspections.